While I fully understand why some people swear off new year's resolutions, I've always been aight with them. I mean, they're pretty much just goals, and I like goals. Goals are generally good, unless they are focused on weight or food in an unhealthy way, and unless you are really mean to yourself about them. Goals are there to give you purpose, not to torture yourself over.
2018 is going to be a big year. There are a lot of things I'm excited for, but the following are five of the most personal. Here are the things I am going to not-torture myself over!
5. Run Five 5Ks.
Fury & me after the Run to Resist 5K to benefit the Immigrant &
Refugee Community Organization (IRCO) in Portland last spring.

I know I said goals shouldn't be about weight or food, but they can be about things that make you feel good. Running a 5K isn't easy for me, but it makes me feel good.
4. Finish reading The Warmth of Other Suns.
This book is a mammoth one, and it's been sitting on my side table forever, my bookmark stuck at 150 pages in or so. It is going to take some serious time commitment, but I swear, I will finish it this year! I CAN DO IT.
3. Join a local hiking community.
Last year, I got super into watching hiking videos on YouTube, which made me feel like a real millennial because previously I never watched much of anything on YouTube. Finally, I can relate to my students! Anyway, I also started following the Instagram
Unlikely Hikers
, and other Instagrams/online communities like it. And from the moment I found them, I thought: my people! Because those YouTube hikers I follow, while I love watching their videos, are skinny and fit AF. And that's just never going to be me, y'all. And who you are and what your body is really does affect your hiking experience, just like who you are and what your body is affects everything you do in the world.
The girl who runs Unlikely Hikers, Jenny Bruso, is based out of Portland, and often leads group hikes where anyone who feels like they are unlikely to be seen in the outdoor world--people of color, queer people, fat people, disabled people--are welcome. I've never gone on a group hike full of strangers before, and honestly the idea freaks me out a bit. Part of the reason I like hiking is the solitary nature of it. BUT, I'm going to do it this year, and hopefully make some connections and friendships.
My long-term goal with this is that I'll find some other fat people that I can eventually plan some more backpacking trips with, and maybe even some trips on the PCT with. Cliff, who has slogged through 200 miles of the PCT with me, is a great hiking partner for me emotionally and socially, but physically I will never be on his level, even though he is supremely patient with me. He is also dealing with some injuries of his own this year. Either way, finding more hiking friends is a goal because I want to continue doing long distance hiking. And I do believe doing it solo just isn't safe, even though I'm all about the female empowerment. I've just been out there, man. Anything can happen.
Going out and meeting brand new people, while doing a vulnerable thing like exercising, is definitely outside of my comfort zone, so we'll see how this one goes.
2. Work Stuff: New Libraries! ALA!
My work life is undergoing some big changes in the next two years. Sorry not sorry to talk about work! It's a big chunk of my life. Both of the libraries where I currently work will be going byebye at the end of this school year. One will be transitioning to a brand new library; the other will be transitioning to a much smaller space while another new library is under construction. This transition will include a lot of physical moving and change, but also involve me teaching two new grades in addition to the six grades I currently oversee. It will also involve even more decision making on my part about where I'm going in the future. It is...a lot! In an exciting but also bittersweet way. It will require a lot of leadership on my part to make sure the direction of my libraries and my job stays on the course I want them to go.
Also on a professional note, I'll be attending an American Library Association conference for the first time ever this year, for four days in February in Denver! Supreme nerd alert! I have an Airbnb booked and a lineup of authors and events I want to see, and I am PUMPED. Hopefully this experience will be fun and rewarding and not stressful and overwhelming!
1. Welcome a foster child into our life.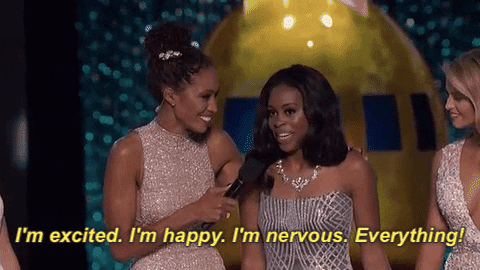 I wrote a blog post in October called
Starting a Family: Take One
. Applying to be foster parents is Kathy and my Take Two. While I was able to be as graphic as I wanted in that Take One blog post because it was about my own body, I'm honestly not sure how much I'll be able to write on here about this fostering journey, because of privacy and safety concerns for any children we get to meet and love.
But undoubtedly, it's the biggest journey we'll take this year. It may be the biggest journey we've taken together, ever. And with each step, I feel more rooted to our decision, more sure that it's the right one for us. But there are a lot more steps for us to take.
And unlike having a biological kid, or even taking a more traditional adoption route, where this journey ends up is completely uncertain. I mean, there are uncertainties with any child, but with fostering, we honestly have no idea what kind of child, or children, we'll be entrusted to take care of: what age, what gender, what background, what level of trauma. But I'm open and optimistic. I have so much to say about this whole thing but don't know how to say it! The gif wraps it up, pretty much. But hopefully at some point this year, after all our classes and interviews and paperwork, we'll be as ready as we can be.
Come at me, 2018! Hopefully you don't end in nuclear war. If you don't, I'll do my best to make you awesome.